Hymo's Main Products
01
Functions of water-soluble polymer
Polymer is normally associated with textiles, rubber, plastics and so on. Hymo's products are special polymer compounds which are water-soluble and have high functionality, that have been advanced into polymer flocculants for wastewater treatment. Polymer flocculant, as the name suggests, gathers all the matter suspended in water in one place to form "flocs". Hymo focused on the fact that water-soluble polymer has many functions other than the ability to flocculate and used sophisticated polymer design technology to develop new water-soluble polymer compounds.
These products are used for reducing environmental burden, conserving resources, promoting recycling and improving productivity, safety and quality in industries other than water treatment such as paper pulp, environment, construction, civil engineering, information and medicine.
■

Functions and applications of water-soluble polymer
| Function | Application |
| --- | --- |
| Gather, sink, float | Coagulant/flocculant |
| Change properties, glue together | Mud improving agent, soil improving agent |
| Solidify | Curing agent |
| Thicken, disperse (thin) | Thickener, plasticizer, dispersant |
| Fixate | Ink jet fixing agent |
| Increases wettability | Wet strength solution, hydrophilizing solution |
| Binding, spraying | Binder, dust reducing agent |
| Absorb | Absorbent |
| Expand, separate | Electrophoresis gel, ion exchange resin |
02
Polymer Flocculants for Water Treatment
Himoloc is polymer flocculant developed and commercialized by Hymo Corporation the first in Japan. It is used widely for municipal and industrial waste water treatment and getting good reputation with its quality and the performance in both Japan and abroad.
Himoloc is not only a water purifier, but also takes a great role in saving resources and energy. Some Himoloc users are able to save their cost by reducing the volume of dehydrated cake, which may help composting or incinerating easier and inexpensive, moreover, establishing sustainable society by reduction of the amount of generated CO2.
Himoloc ZP
This is the first cationic dewatering agent made of modified vinylformamide copolymer ever to be developed in the world. Also known as polyamidine flocculant, it is extremely effective in treatment of hard-to-dehydrate sludge which contains a high amount of putrefactive organic substances.
Himoloc MP/MS
A series of cationic powdered product containing acrylate or methacrylate as main cationic group The MS series is particularly effective in the treatment of hard-to-dehydrate sludge and especially usfull when applied together with an inorganic salts.
Himoloc MX/V
A series of imversed emulsion products. MX is a cationic and V is an anionic. They are higher in active content than ordinary liquid products and easy to dissolve in making up the solution. The MX series has an advantage in treatment of hard-to-dehydrate sludge such as excess sludge and digested sludge.
Himoloc SS/AP
Nonionic and ionic powdered flocculants. They have a wide range of utilities, from acidic to alkaline, and are effective in sedimentation, turbidity removal, thickening and dehydration processes.
Himoloc E/DR
A series of dispersion type products. It dissolves so rapidly that you can dose it directly to the raw water to be treated without any make up equipment. It does not contain any oil or surfactant, which means it does not contaminate the effluent or recycled water. This product can be effective against the raw water and sludge with higher concentration of salt,
This dispersion polymer is awarded by the US Environmental Protection Agency as an "environmentally-friendly chemical technology." It is highly regarded and popularized in countries around the world.
Industrial waste water treatment plant
A flocculation experiment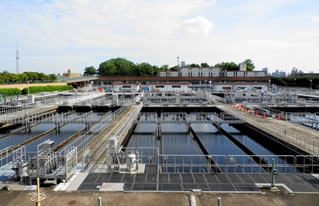 municipal sewage plant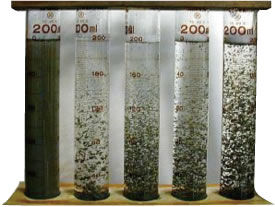 A flocculation experiment
03
Polymer Solutions for Paper Manufacturing
Hymo focused on the application of water-soluble polymer to the pulp and paper industry and was the first to introduce synthetic polymer retention aid to the market. Following that, Hymo developed drainage aid, fixative and chemicals for deposit control , to enhance productivity, reduce consumption of baluable raw materials, save energy, save labor cost, lower environmental load, and more. Moreover, not only do we supply chemicals, Hymo also provides technical know-how, original equipment for our chemicals, technical services, and over all solutions.
Retention aid Himoloc ND/DR/RX/RV/FA
We have a full portfolio of retention aid and system to adapt for all types of papers and manufacturing conditions. Our products are effective in improving the retention of fine fibers, along with fixation of loading material, dye stuff, sizing agent, paper strengthening agent and other valuable materials.
Drainage agent Himoloc FR/ND/RX/RV/FA
These are agents that mainly contribute to improving drainage and lower the dryer load. This leads to improvements in machine speed and reduction of paper breaks, resulting in higher productivity.
Coagulant Himoloc MT/NR/FR
These are coagulant type agents for paper stock treatment. They improve the quality of paper by preventing problems by deposit or resin pitch originated from mechanical pulp, waste paper and broke, as well as adhesive substances. These products are also effective in the removal of dirt formed by circulating residual of hydrolyzed paper strengthening agent and sizing agent.
Agent for Interlayer resistance Himoloc MJ
A synthetic polymer for interlayer spraying. It is not perishable like the starch used conventionally, and offers good handling and excellent adhesive strength.
Fixation Agent for Ink Jet printing paper
Himax SC
An ink fixation agent with a special molecular structure. This product has excellent ink receptivity of dyes stuff and pigments and helps to achieve high quality paper with improved color, weather resistance and water resistance after printing.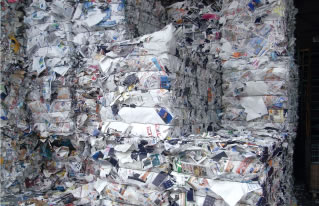 Recycled paper material
04
Functional Polymer Solutions
We have applied the technology of water soluble polymer to new products and applications, developing new products with added functions.
Mud Rheology Modifire Rockmaster
The mud discharged from such sites as civil engineering construction, dredging or land reclamation may have high water content and high fluidity, in other words, it is hard to convey out for disposal and working efficiency is lower. Not only that, it would trigger environmental issues if there were leaks to the surrounding area.
With a small amount of Rockmaster, it becomes easier to handle the wet mud by improving the rheology, increasing the drying ability, and reducingdust emissions from dried mud.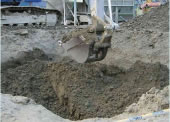 Polymer Agent for Slope Greening Hymoseed
Spreader for slope seeding HimoseedHimoseed is a polymer agent used for the greening method mainly on roadside and other construction sites. Hymoseed enables the surface material including soil, wooden bark, lawn seed of the slope to keep its water-retention ability and adhesiveness to the slope, allowing the seedlings and seeds of plants to be grown on the slope and recover the local flora to the state it was prior to the construction.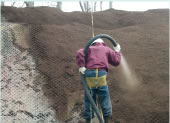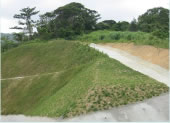 Dust Reducing Agent "Hinatom"
The New Australian Tunneling Method (NATM) is one of the standard methods for large scale tunnels. Hinatom is highly useful to provide the spray construction method for a quick-setting spray cement concrete, capable of considerably reducing rebounding and the generating amount of dust, and of achieving environmental improvement for workers.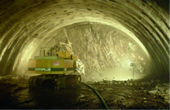 Water jet Additive "Himovis WJ"
Himovis WJ-1000 is the polymer additive for water jet cutting and excavation, which help prevent gushed jet water from dispersing after the jet nozzle. Moreover, Hymobis is used in the Econ method which has been developed for the safe and fast removal of asbestos, at decontamination work site.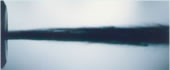 If not used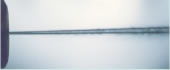 If used