Our Business
Creating a market from our core technology
Further advancing society through our expanding core technology
With fields deriving from the technology of functional polymer, Hymo pursues technologies in all areas to meet the various demands of industry.
Utilizing the free thinking which expands like ripples from this stance, we strive to develop new technologies which enrich people's lives and create new markets.
The business area where Hymo technology is useful for continue expanding wider and wider.
Creating New Market We are challenging ourselves to cultivate in new field with relation to the keywords of "environment", "energy" and "health." With the functional polymer technology we have accumulated, we are creating polymers with new functions and new applications.
Gel Electrophoresis for biochemistry analysis We have applied the polymerization technology to the biochemistry fields. It is widely used in medical and research institutions for the analysis of protein and nucleic acid.
Polymers for civil engineering The chemicals consist of our highly developed technology of water soluble polymers show distinctive ability at construction and civil engineerint sites. Safety and accurate construction work is a must at every sites, as well as environmental preservation .
Polymers for water treatment (polymer flocculants) Water resources are limited on the earth and increasing its importance. Hymo meets each and every demand of customers with professional technology in water treatment field.
Coating color additives for ink jet printing paper A quality of image printing mainly depends on the property of the paper used, besides machine performance. Our coating additives give improved coloring property, along with higher function of both water resistance, weather resistance, and surface strength..
Polymer additives for paper manufacturing We help customers solve their issues, such like maximizing product quality, reduction of cost, and minimizing environmental load.
Sales Network
We have 10 sales offices in the Japanese market serving any and every field and scale of customers.
The customer's requirements are getting complicated and diversified more and more, as awareness against environment becomes higher and weight of environmental issue in the business becomes heavier.
We find out the "unnoticed problems" which they do not aware by themselves such as inefficient operation, unnecessary cost, and solve those issues for them with our technologis and products.
Our Mission is to create the "Harmony between Nature and Human."
"Purify waste water as possible and return it to nature" – In order to achieve this goal, Hymo develops cutting-edge technology and continues to offer products with sophisticated functions. The realization of crystal clear river, beautiful ocean, and harmony between nature and human are exactly what we are aiming at.
Our Wish is to be a Company that Contributes to Customers
Our Wish is to be a Company that Contributes to Customers
The solution technology we have accumulated to date is a precious shared asset created together with our 6000 customers. We will advance this asset even further, and help to progress our customers' business one step further while deepening our relationship of trust.
Product Strength Acknowledged around the World
Hymo has been licensing its technology to overseas companies for many years now, however in recent years we have exerted particular efforts in sales activities and product development with our focus on regions such as Asia. Our experience and technology as a water treatment solution manufacturer is utilized beyond national borders. We will strive to appropriately assess overseas markets and achieve further development and business expansion.
Utilization in the Various Fields Supporting Living
Hymo's products are used across the country for wastewater treatment in sewage treatment plants and the manufacturing processes of industries such as steel and chemicals. A variety of our products are also adopted in the paper manufacturing and civil engineering fields. Hymo's products, which are utilized in fields closely linked to public services, are significantly contributing to protecting various lifestyle environments as well as maintaining safe and steadfast operations in the manufacturing industry.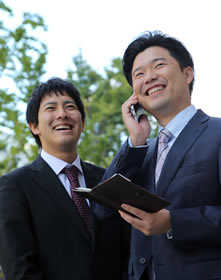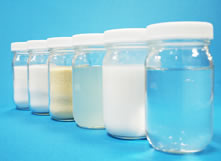 Research and Development Framework
Hymo's mission is to leverage cutting-edge technology and secure a beautiful natural environment for the next generations. By continuing to create new solutions which predict the changing times, and providing products which satisfy our manufacturer and other customers' needs, Hymo is helping to improve water environments which are essential to our lifestyles and business.
Research and Development is our Starting Point
Hymo is a company formed by researchers. We have grown up by listening to the concerns and requests of our customers, and solving them with our technological approach. Even today, we carry the DNA of R&D. Incorporating the elements of value creation, exploring every possibility and state of the arts of technology into our products, we wish to be a company contributing to society.
"First in Japan" Technological Strength
Hymo succeeded in manufacturing and commercializing Himoloc, the first ever synthetic polymer flocculant in Japan. Since then, under the concept of "Development of original products and systems which are sustainable in environment and adaptable to the world market", we have focused our efforts on technical development and been the driving force of advancements in Japan's water treatment technology.
Licensing and Joint Development
We have licensed our patented technologies to several foreign companies in Korea, Taiwan, Australia, United States, and Spain. Here in Japan, we have entered some joint development agreements with domestic companies.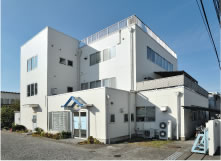 Shonan Research Center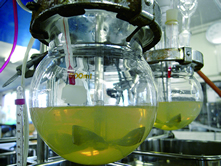 Production/Distribution Framework
We establish the manufacturing and shipping systems which afford detailed and diligent response to our customers.
With the focus on "Safety, Security, and Quickness", we utilize our nationwide distribution network to deliver our products to customers.
Production at 4 Plants
With ISO9001 and ISO14001 certification, we manufacture our products based on the latest technological systems and environmental conservation framework. Moreover, we have formed a production framework between our four production plants through which we can avoid risk resulting from large-scale disasters.
Distribution Framework
We deliver our products in various forms to suit our customers' acceptance framework, such as by tanker or containers. Moreover, we have in place a distribution framework which positions no accidents when transporting or delivering the top priority.
Quality Control
By taking all possible measures in quality control, we make it possible to offer our customers products which will earn their satisfaction. We have established various standards and criteria to maintain steadfast quality and our high quality is unfaltering.
Information Disclosure
As a manufacturer, we proactively provide information relating to the safe usage and handling of our products. Moreover, as a company which handles chemical products, we disclose accurate environmental and safety information.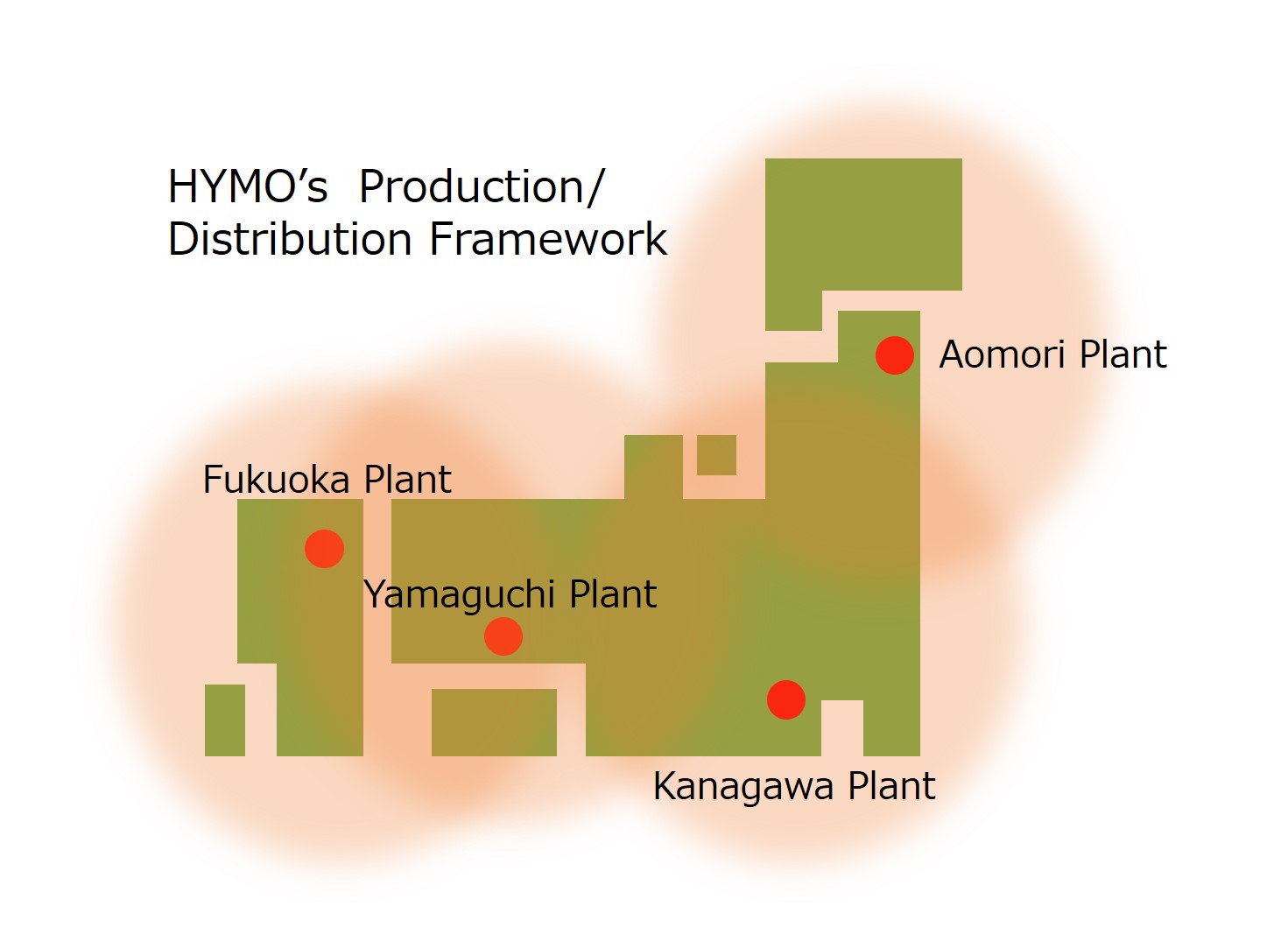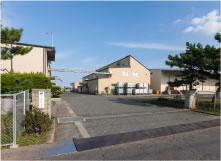 Aomori Plant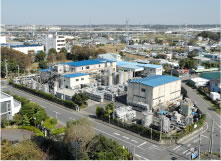 Kanagawa Plant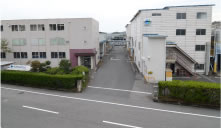 Yamaguchi Plant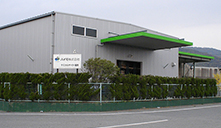 Fukuoka Plant